Lafayette (LA) Daily Advertiser, May 17, 2002


Books Arrive by the Truckload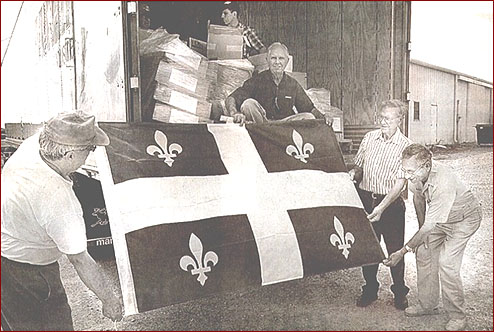 Canadian Schools, Council, Donate 24,000 French Textbooks for Students

Story by Sebreana Domingue, photo by by Peter Piazzi

French books arrived at Prairie Elementary en masse Thursday-24,000 of them-and will provide reading material for French immersion students throughout Southwest Louisiana.

"It is exciting to see so many books," said Dana Schmersahl, principal at Prairie Elementary." About 100 Prairie Elementary French students sorted through the truckload of textbooks and workbooks in French. The books were donated by schools in Quebec and the Council for French Life in North America, said Eddie Richard, vice president of the Confederation of Associations of Acadian Families. The confederation is distributing the books.

The group is based in Lafayette and works to preserve Acadian culture and the French language, Richard said.

Richard's son, Cajun musician Zachary Richard, spends a lot of time in Canada and found out the school system in Quebec was changing its textbooks.

With help from some contacts with the Council for French Life, Zachary Richard was able to get the books donated to the state, his father said. The books were shipped by truck to Louisiana.

"They told us there were 24,000 of them, and most of them are brand new," Eddie Richard said. "They will be distributed to all of the schools that have French Immersion Programs in Southwest Louisiana."

Schmersahl, whose school has more French immersion students than any other in the parish, said it is often difficult to find books in French to use for the classes.

"It is so hard to get children's literature in French," she said. "This is really a gift, and we are excited about it."

The books will be placed in the library of the French classes to use in lessons, the principal said.

"This will be a great benefit to the immersion programs which have suffered constantly from a lack of standardization of textbooks and a general lack of materials," said Zachary Richard."



Copyright ©2002 by the Lafayette (LA) Daily Advertiser. Reprinted with permission.